Dr. Notorious is a singer-songwriter of blues-rock songs. His songs are very rhythmic with lyrics that are not entirely unwise, sometimes deep, occasionally salacious, and not uncommonly a little silly too (The Dr. keeps striving). He writes songs, he sings, he plays guitar, he plays harmonica, and, if you buy him a drink, he may even dance for you (or with you, it depends).
After a recent performance by the Dr., a wise and quite discerning  new fan told him "Your music was just as I had hoped: inspiring, energetic, heartfelt, and fun, and it got people moving."  Fun and it woke people up? Mission accomplished!  Deep stuff too?  Will wonders never cease?!
Dr. Notorious has been singing (according to some) and songwriting (according to most) for more than 20 years. Up until recently, his performances were largely confined to living rooms (and a few bedrooms). In 2009, he started to move into the public arena; sitting in with friends' bands and playing the occasional public cameo performance. In 2011, Dr. Notorious took it up a notch with solo public performances.  His widely acclaimed (yeah right!) public solo debut was January 8, 2011 at the Bazaar Cafe in San Francisco.  He's since performed at the Trickster Arts Salon at Mission Control, recurring gigs at the Bazaar Cafe, at Center Camp Cafe Stage at Burning Man, at SF Decompression, at a "temple" 😉 in Sebastapol, at SF CSC and our journey continues…
Who knows where this will lead?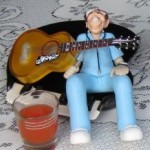 Who's coming along for the ride?
Don't worry… I'm a doctor.