Dock Knowtorious, aka "The artist formerly know as Dr. Notorious",  is a singer-songwriter of blues-rock songs and a Tantra teacher among other things. His songs are very rhythmic with lyrics that may grab you  (by the you know what… your heart), are often inspired by Tantra, sometimes deep, occasionally salacious, and not uncommonly will make you smile. He writes songs, sings, plays guitar, plays harmonica, dances (for you or with you) and teaches cool stuff sometimes.
After a recent performance, a wise and quite discerning  new fan told him,  "Your music was just as I had hoped: inspiring, energetic, heartfelt, and fun, and it got people moving."  Fun and it woke people up? Mission accomplished!  Deep stuff too?  Cool.
Dock has been singing (according to some) and songwriting (according to most) for more than 20 years. Up until recently, his performances were largely confined to living rooms (and a few bedrooms). A few years back, he started to move into the public arena; sitting in with friends' bands and playing the occasional public cameo performance. In 2011, Dock took it up a notch.  His widely acclaimed (Yeah!) public solo debut was January 8, 2011 at the Bazaar Cafe in San Francisco.  He's performed at Mission Control, recurring gigs at the Bazaar Cafe, at Center Camp Cafe Stage at Burning Man, at SF Decompression, at SF CSC, and various venues around S.F. and our journey continues…     Shhhhh… the journey has no end… let's ride!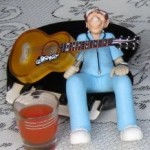 Join me for the ride!
Don't worry… I'm a dacktah!